general info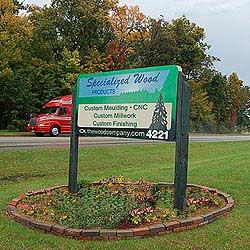 QUALITY PRODUCTS

Our products range from hardwood or MDF mouldings, hardwood flooring, window jambs, milling MDF, Lumber Core, and Plywood. We can also finish customers' product including window jambs or custom mouldings. We offer CNC routing and cut-to-size products.

Quality Our employees are trained in quality control. Each product is inspected to meet the standards, which you the Customer set. Our employees are trained to inspect and package each order to our customers' requirements.

Attention to Detail Specialized Wood is very selective in the wood we purchase to produce each customers order. We purchase the highest quality and grade of wood per our customers' requirements. A majority of our mouldings are hardwoods. We also, when requested, will mould softwoods.

One-Stop Shop We have the capabilities to rip and mould MDF and Lumber Core. We produce our tooling, CNC drawings, and color match in house. All moulder profiles, CNC design and color match are approved by our customer before we start the first order. We will match any color and apply conventional or UV finish to hardwood, MDF, and Lumber Core mouldings.

ORDERING PROCESS

With each quote, Specialized Wood Products will give our customer approximate turn-around times. We generally ask our customers to allow 10 to 15 working days on initial orders. Thereafter we ask them to allow 7 to 10 working days. When that special need arises and our customers need something sooner we have the flexibility to make that happen.

SHIPPING

We will deliver within a 50-mile radius. All other shipments are Customer Pick-up or go by Common Carrier.

ENVIRONMENTALLY FRIENDLY

At Specialized Wood, we are very committed to the highest level of environmental and safety standards. Our Environment and Safety consultant monitors our facility on a monthly basis to ensure we are adhering to the latest environmental and safety standards. We have formal programs in place for air, hazardous waste, storm water and pollution prevention. Environmentally friendly, we use the latest UV finishing technology. The majority of our finishing products are water base; and, we recycle all the wood by-products we generate.

We work very hard to process every WOOD resource we use to the fullest. Our goal is to produce the least amount of landfill waste. We adhere very closely to the proper disposal of any hazardous waste we might produce. We are very conscience about any spills or issues that may enter our ground water; and, our air filtration system creates a dust-free environment for our workers and neighbors. Our sawdust is blown into specially equipped self-contained semi-trailers and is then sold, mainly for agriculture and/or paper products.